PROMOTIONS (Valid until 2/15/19) Mommy Makeover, Signature Advanced Facial Rejuvenation, Beautifying Special, Full Body Liposculpture + Brazilian Butt Lift, MACS Facial Rejuvenation, Rhinoplasty with Complimentary Turbinate Reduction, Sleeve Gastrectomy See All of Our Promotional Prices Below.
My Medical Vacations Plastic Surgery is a leading plastic surgery provider in Mexico that aims to offer the highest standards of aesthetic treatments and medical tourism service in North America. The medical center is one of the most renowned Cancun plastic surgery centers in Mexico; thanks to state-of-the-art health care infrastructure and effective surgical techniques. Cancun plastic surgery doctors have performed thousands of successful procedures including breast implants, tummy tuck, liposuction, nose surgery and facelift.
The board certified surgeons of My Medical Vacations Plastic Surgery hold more than 10 years of experience, bringing scientific practice and artistic skills to local and international patients. The center's bilingual medical tourism consultants will be at your beck and call and will attend to all your needs. With a personalized treatment plan and non-invasive approach; you will love the new you.
Plastic Surgery in Mexico
Your safety is the doctors' main priority. That's why your plastic surgery in Cancun will be performed in a modern private hospital equipped with all the amenities and facilities you need to ensure a successful treatment and comfortable recovery. Plastic surgeons will be by your side every step of your self-enhancement journey in Mexico assuring you look as good as you feel and get home safe and beautiful.
Cosmetic surgeons in Cancun always aim to meet every person's unique needs in a very professional and personalized manner to achieve safety and value for money. During your stay in Cancun, the center's travel guide will help you make the most of your vacation in Mexico and will arrange your hotel bookings, airport transfer and sightseeing tours.The day sightseeing tours include boating excursions, jungle tours, archaeological sites such as the new world wonder and Chichen Itza.
Promotions Plastic Surgery Cancun
Dr. Arturo Valdez
Mommy Makeover
Regular Price $ 11,999 USD
Promo Price $ 9,849 USD
Includes Breast Lift + Breast Implants +Tummy Tuck + Full Liposuction
Complimentary Brazilian Butt Lift
Dr. Arturo Valdez
Signature Advanced Facial Rejuvenation
Regular Price $ 7,749 USD
Promo Price $ 5,979 USD
Includes Neck Lift & Face Lift with High SMAS technique +Blepharoplasty Upper & Lower +Fat Grafting in
Nasolabial Folds, Cheeks & Lips
Complimentary HD Facial Liposuction& Bichat removal
Dr. Arturo Valdez
Beautifying Special
Regular Price $ 5,999 USD
Promo Price $ 3,909 USD
Includes Rhinoplasty +Chin Augmentation with Fat Grafting or Implant
Complimentary Bichat removal
Dr. Arturo Valdez / Dr. Edgar Torres
Full Body Liposculpture + Brazilian Butt Lift
Regular Price $ 5,699 USD
Promo Price $ 4,349 USD
All 4 promo packages include our VIP Patient Service Package - Destination: Cancun
Dr. Rafael Velazco
MACS Facial Rejuvenation
Regular Price $ 5,599 USD
Promo Price $ 3,999 USD
Includes Face Lift with Deep MACS technique + Blepharoplasty + Fat Grafting in Nasolabial Folds
Dr. Rafael Velazco
Mommy Makeover Special
Regular Price $ 10,999
Promo Price $ 7,099
Includes Breast Lift or Breast Implants + Tummy Tuck + Full Body Liposculpture with Ultrasonic Technique
(For $ 999 Add Brazilian Buttock Lift)
Both Promo Packages include our VIP Patient Service Package - Destination: Cancun
Dr. Alejandro Montalvo
Rhinoplasty with Complimentary Turbinate Reduction
Regular Price $ 4,499 USD
Promo: $ 3,499 USD
(Turbinate Reduction requires evaluation/approval by Dr. Montalvo)
Includes VIP Patient Service Package and 07 nts stay in Kavia Hotel - Destination: Cancun
Dr. Jesus Nuñez
Sleeve Gastrectomy
Regular Price $ 6,500 USD
Promo Price $ 4,999 USD
Includes VIP Patient Service Package - Destination: Cancun
Connect with My Medical Vacations Today!
Dr. Jesus Nuñez Sleeve Gastrectomy
Regular Price $ 6,500 USD
Promo Price $ 4,999 USD
Includes VIP Patient Service Package - Destination: Cancun
Connect with My Medical Vacations Today!
Get a FREE quote for Facelift
Once you click the button you will receive your quote in your email within a few minutes and we will never spam you.
Reviews
It was an absolutely amazing experience from beginning to end. I'm extremely pleasedwith the results.

I'm writing to share my experience with My Medical Vacations in Cancun Mexico. From the time I arrived with my husband, Katie Ana and Betty took excellent care of us. We were picked up from the airport taken to all of my medical appointments. I had some concerns about surgery and Betty spoke with me in detail and addressed all my concerns and fears. I felt conformable – safe in their care and in Cancun. I had Blepharoplasty with Dr. Torres and Rhinoplasty with Dr. Montalvo, both surgeons were excellent and truly skilled at their craft. I had daily post-surgical visit from Ana our sweet nurse, who came to our hotel to make sure I was healing properly. My overall experience was wonderful and I absolutely love my results. I´m planning on coming back in the future. I highly recommend My Medical Vacations to anyone considering cosmetic surgery in Cancun. You´ll be in excellent hands. Than you all for your care and support. All the best, Karma Shanti Virginia-USA

The whole experience from you (yes you were great as well Betty..!!) and My Medical Vacations was very good! Everything was taken care of from being picked-up in a nice van, to getting me around to all my appointments. The hotel Ambiance was very good with the room being very modern and the hotel restaurant having good food at great prices. As I stated earlier Dr. Valdez was wonderful and we got along very well. He explained procedures perfectly and gave me the personal touch of coming to my hotel room to check on me – awesome!! You won't see that in the United States medical system!! Thank you Dr. Valdez for that!! Ana was great as well and checked on me either in person or during the day with a text to see if I needed any thing – can not ask more of her. The entire experience was great! I would recommend MY Medical Vacations to anyone looking for plastic surgery. Thanks to all!! Rick Adrian

My first experience with MMV was very welcoming. Maureen my medical consultant spoke with me about the possible doctors and the various hotels here in Cancun. Throughout the decision-making time she was so helpful by having me meet Dr. Torres via Skype; in addition, she introduced me to 2 other US citizens who had the procedure I was considering. Maureen was like family in Mexico even as I recovered she touched base I make certain I felt well I sold myself on MMV after the positive interaction with her, the youtube videos and photos shared by her. I would give her 5 stars. My next contact was Betty Corona, concierge Betty also made me feel excited to come to Cancun for my F.L. She was a caring woman who helped coordinate medical schedules, travel and transportations itineraries she met me @ the airport and welcomed me as a personal guest. So sweet! muchos gracias Betty 5 stars for you as well. Nurse Ana Lopez. RN. This young lady works very hard she was a personal nurse from driving me to my appointments to being with me pre and post surgery and through the first night. Everyday Ana was on call 24/7. I had questions at 23:00 and she got back to me immediately every day she came to my hotel and cleaned and dressed my incisions on day two she assisted with my first shower and hair washing. Ana taught me how to dress clean and take care of myself she is THE BEST RN I have ever met Ana is a caring nurse translator, driver, and tourism specialist. She is invaluable to MMV. she is truly a loving nurse once again 5 stars. DR.EDGAR TORRES SURGEON. My initial meeting with doctor Torres with via Skype after the initial consult I made the decision I JUST DO IT! Dr.Torres is a patient medical professional! He is very thorough and I will continue to communicate with him once I am home. He said that his joy is know how happy patients are after a surgery, 5 stars If anyone is considering this procedure don't wait to get the surgery done relax and recuperate in beautiful Cancun Mexico. Know that you are in the hands of a family of caring medical individuals who are fully professional this has made me so happy THANK YOU MMV! Jacqueline Dudash

While normally a very skeptical person who does extensive research about any medical facility and doctor this was not the case this time. From the moment I spoke with Katie. I was put at ease, there was no hard sell. She patiently and thoroughly answered my questions. After I decided to move forward with Lipo + BBL, Betty took over all the coordination and logistics a true professional and a gem! Again no worries about the legitimacy of the medical establishment or the skill of the doctor, from the moment I arrived in Mexico and met Betty it felt like we know each other for years, she is terrific. Dr. Torres performed my surgery. He has a gentle touch and takes his time. If you are looking for something unusual or non-aesthetic he is not your guy. But if you did like a doctor who considers your body structure and what's right for you, he is a good match. Ana was my nurse amazing she came to visit me every day to ensure I was healing well Ana not only took me to my checkups but went beyond and helped we run " tourist errands " as well After my last visit with Dr. Torres while still swollen and bruised I know I will be back. Not just for other procedures, but also to see whom I now consider my new friends. Thank you, Un abrazo

Hello, Everyone! Tomorrow I go home after a surgery I stressed so much about having away from home. What a relief to know my worries were for nothing. All of you, Betty, Ana, Alex, Paco and of course Dr. Samano took the utmost care to everything I needed before and after. I might add the family and Friends stressed even more than I did, and I was the one having surgery!! Betty talked to them personally and answer all their questions as well. Thank you so much to everyone helping achieve a goal I wanted a very long time.

From the very first contact I had with MyMedical Vacations (Katie), via the MyMedical Vacations website portal, was so helpful. Katie's professionalism, punctuality in responding to requests, questions, and her knowledge of all to do with the procedures and the area was beyond exemplary. Katie also provided information and contacts required for hotel arrangements. For example, Katie went to great lengths to find me a travel agent to help arrange with my hotel that I wanted to stay in after my surgery and all other necessary things to get me there. I was also provided information on all aspects of the procedures, the information regarding appointments and processes and payments. After I arrived in Cancun I was promptly met at the airport, quickly taken to my hotel where reservations had been made for me…. then I started meeting the team. The team is with you for all appointments, lab work, trips to the office visits, hospital. I cannot say enough good things about everyone of the team that I met. Paco, Bettye, and Ana (my nurse). Everyone went above and beyond for me. I felt safe and never had to worry about anything. It made my whole trip worry free. I will use them again the very near future.

This is my second trip to Cancun for plastic surgery with My Medical Vacations. This time I came for a breast lift and augmentation, and some liposuction. I'm very happy with the results Dr. Sámano has a great bedside manner, and was very understanding. Betty is one of the concierge staff and is still one of my favorite people on earth. Betty and Andres have made my second trip just as good as the first. Ana, my nurse checked on me every morning and did a great job with my aftercare, she is also amazing! I have recommended My Medical Vacations to all of my Friends and several people have booked in based on my experience. These guys are great I really can't say enough good things about them!

I had researched rhinoplasty and its associated costs extensively before contacting My Medical Vacations (MMV). I also had an acquaintance who has had several procedures done in Cancun using MMV. Katie, the coordinator; Betty my concierge and Ana my nurse have been by my side Throughout this procedure… they are truly amazing and dedicated people. If I were to need other procedures I would not hesitate using MMV services again and would highly recommend them to anyone. Rosellen Frisbee

TIUR BREAST IMPLANT TESTIMONIAL FROM ALBERTA, CANADA 5 febrero, 2016 | Medical Tourism Testimonials | Like | Leave a comment | February 2nd, 2106 I am very happy with My Medical Vacations services. The people you are dealing with are awesome. As a patient you get a VIP treatment with them. Thanks to Katie for your professionalism in responding, following up, very understanding of my circumstances. Thanks for P/U on the phone in the night and make me feel better on my post operation. Betty is very punctual reminding whatever I need, very helpful person. Lisa is catching up her role very fast. Way to go Lisa! And Ana the nurse never miss her visit on me. Thank you all. I had my breast augmentation and nipple repair with Dr. Samano. His personality & professionalism are stunning, he has time to listen to my questions, concerns, requests, he never rush. Very on time on every consultation, even on the surgery day he is there before me. He also picked up his phone when I called him on weekend asking about my post op condition. They care about your safety and the result is great. I love it, very proportional to my body and it looks natural. Dr. Samano is always smiling and welcoming you warmly. I feel like they are all my friends, so don't worry about anything. Just be patient on your recovery and enjoy your holiday! Elen / Edmonton Canada

My personal experience with My Medical Vacations is completely positive. The communication with Andres and his team was great from the start and didn't leave any questions unanswered. Initial doubts were eliminated quickly and I don't regret my decision for them in the slightest. Something I really appreciated was the fact, that the well-being of the patient was clearly the most important during the whole process and I never got the feeling of being just a number like it used to happen a lot in German Hospitals. The quality of the hospital and doctors are not affected by the comparatively cheap prices. Personally, I couldn't make out any differences to the german standards at all. Andres and his colleague picked me up on time at the airport and he even sent me pictures of the meeting place beforehand, to make sure I wouldn't miss it. They were really nice and welcoming. The preexamination were already set for the next day and everything went really great. Doctor Samano and his staff were very friendly and professional. We discussed everything about the surgery in depth and a little less than 24 hours later, I already found myself in the hospital, getting ready for the surgery. Of course I don't remember the surgery itself but everything around it, the nurses and doctors and the hospital itself were very professional and did their best to make me feel as comfortable as possible. There were no complications and they brought me back to the hotel in the evening, where Cristina helped me to get settled and she even brought me breakfast to bed the next day. The pain was bearable thanks to the medication and the team always made sure I didn't run out of anything I needed. Within the next couple of days, they checked on me at least once a day to make sure everything was fine and I could always reach someone on the phone, 24 hours a day which was great to know in case of emergency. Besides all the services included, Cristina drove me to the supermarket and to restaurants which was amazing. She was like my personal nurse and always responded quickly to any question I had. The Service really deserves a huge compliment. I didn't think it'd be that great to be honest. My healing process is going as expected and the regular check ups with Doctor Samano are slick. I'm very happy about the results because Dr. Samano fixed what surgeons in Munich couldn't do. He gave me a symmetric nose and that only proves how skilled he is. Looking back, I'm glad I chose My Medical Vacations because I didn't have to worry about anything and the organisation was just great so all I had to do was follow the instructions of the Doctor and focus on my recuperation. I can only recommend Andres and his team and if I ever decide to get another surgery I won't hesitate to come back to them. It's been a great experience and I'm very thankful for it. xoxo

Any treatment or sugery I need done will be planned through my medical vacations! They were phenomenal and I will be going back in the future. I would not only recommend them to just friends but also my family members! I know they would be in great hands.

My Medical Vacations not only kept all their promises they were able to exceed my expectations. The surgical procedures were done professionally and with every comfort I would of expected anywhere. I was visited daily, after a brief overnight stay at the clinic, by my nurse (Christina) who. Saw to my every need. She was professional while maintaining a friendly environment that made my recovery pleasurable. My driver and facilitator (also named Christina) was always on time and went the extr mile to ensure my comfort. The rest of the staff (Katie and Dr. Carmona) were totally professional and very friendly. My procedure was a success and far exceeded my expectations. We will be returning in November so that my fiancé can also have a procedure done. I would not hesitate a moment in recommending these services to anyone. These people managed to become friends in the 8 days I spent recovering in beautiful Cancun.

I had surgery previously at perfection & Victoria clinic both doctors were average at best. I met Dr. Carmona twice, I met him a year ago thru My Medical Vacations but was persuaded to go to perfection by a local person I met as it was "cheaper", yes there are many other cheaper doctors in Mexico but if you´re looking to be happy with results go to Carmona I ended up meeting with him just recently, a month ago, to correct my surgeries and did he ever I am only 2 weeks into healing and the results are amazing!! I have also recommended 3 other of my gfs who are all going to see him and told them to arrange everything thru Katie Lynas, who is the Coordinator of My Medical Vacations within in the Next month or 2!!! I'm very picky! the quality and the staff / team from the medical concierge, to the nurse and the surgery center and the standards are 10 out of 10!! I will be going back again!!!

I had a very pose experience. Katie Lyndas was priceless with her help before and after surgery and all I have to say about Dr Marco Carmona is that he is an artist. I saved a lot of money, got VIP treatment, had a great doctor, and recovered in Paradise. Highly recommend mymedicalvacations!!

To anyone interested in cosmetic treatments. I recently booked some cosmetic treatments over the internet at My Medical Vacation in Cancun Mexico which by the way is a beautiful big city with first class everything. I am so impressed with the organization, the medical facilities and the personnel of 'mymedicalvacation.com'and I didnt even get a treatment! As it turned out the cardiologist found I had an irregular heart beat and wouldnt allow surgery until it was treated.He explained what was the problema and how the drugs would work to correct it in English. Right from my first inquiry Katie has found answers for all my many questions and with Sarah they completely took care of me from arrival to Cancun to departure and thats everything from shopping, food, hotels and I didnt even get the surgery. I dont hesitate to recommend to anyone this group for secure professional treatment in all respects. Jullin Hadden Vancouver BC

On October 3rd, 2013 I had my procedure performed. Not only did Dr. Carmona continuously make sure I was comfortable but he ensured me that the results would be amazing. It was super scary coming from Canada to a foreign country and most could agree, though this experience was everything but scary. My procedure went very well and I cannot explain to you how happy I am. Even though my nose is very swollen it looks very natural as if I hadn't had surgery and it's beautiful! I could go on and on because Dr. Carmona is the best surgeon I've ever met. From the moment I entered his office to the day I was flying back home he took care of all my needs and made it a very relaxing journey to a new and improved me!

Was amazing, So beyond pleased... the day after the surgery i was up and walking on the beach... a bit sore but nothing i couldnt handle.. I am not 3 days after the surgery and i am feeling great!:) I am happy with how smart and passionate he is about his work. I would recommend him to anyone. And only go to him for any procedure.

My experience with my medical vacations(MMV) and Dr. Carmona was outstanding on every level! I called MMV on a Saturday and was lucky enough to reach Mitchell. He was wonderful! He was courteous, polite and best of all honest! He answered all of my questions and was upfront about everything regarding expenses and expectations of the procedures I was looking in to. His in depth knowledge about each procedure really impressed me. We discussed the surgery, the recovery, when I could fly again, etc… and he was able to answer all of my questions. I also contacted other medical destinations but I did not receive the same attention to detail or knowledge from the representative. Customer Service The attention to customer service from MMV is phenomenal! Mitchell and Andres took care of everything!! They not only picked me up from the airport, but they also made and drove me to all of my appointments including the lab, the cardiologist, and the consult with Dr. Carmona. These two wonderful men met me at my hotel the morning of my surgery and brought me to the hospital. They brought me back to my hotel room after the surgery and their wonderful nurse Lupe took care of me. Over the next few days Andres and Mitchell stopped by and called to see how I was doing. Knowing they were looking out for me was very reassuring and I am convinced it was helpful in my healing. Dr. Carmona Phenomenal!! Dr. Carmona was wonderful to work with! He is a master at what he does! During my consult Dr. Carmona advised me about the procedure and gave me his recommendations. He is very professional and far exceeded my expectations! Dr. Carmona's confidence in his abilities made the entire procedure stress free. He asked me if I was nervous and I replied "no" simply because he was so sure of his work. I am six weeks post op and I have to say I am so happy with my results! For the first time in ages I now have a waist!! For years I had a straight up and down figure but now I actually have a flat stomach and a curvy waist! The day before the surgery I was wearing a size 10 in woman's pants. As I type this today, I am wearing a size 4 jeans! I am also really pleased with my arms! Before the surgery they were thick and regardless of what size shirt I wore my sleeves were always tight. Dr. Carmona was able to sculpt my arms, not interfering with my muscle, and shape them to look long and smooth. I no longer wear a size large shirt or hide in a baggy sweater! I wear a size small top now! I cannot say enough good things about the staff at MMV, or Dr. Carmona! I give them my highest rating and recommend

After a long research I fiund Dr. Marco Antonio Carmosa as the most popular and requested dr. My experience was phenomenal, he was very informative since the beginning and explain me everything that I need to know about te procedure. Is been 2 weeks after my surgery and the result is way better that what I expected, I almost have no pain and I feel better! I definitely recommend him! I feel very comfortable with him!

Thank you Andres, Katie and Lupita (nurse) for taking such good care of me during my time in Cancun. My opinion is that you run a great company, and that you yourself are honest, caring, have the utmost integrity, and that you put the safety and well being of your patients first and foremost. From the moment Katie picked me up at the airport, I felt like I was in good hands, and her sense of humor and zany energy was refreshing. Nurse Lupita is a darling, and she made me feel safe and secure and cared for in those first few difficult days post surgery... It was lovely getting to talk to you at length...I wish you all the best with your business, and thank you for being understanding about my switching hotels abruptly. Had to feel that vacation vibe, lol. And to finish, I really appreciate your sincere concern for people. It did not go unnoticed that you and your staff really care and do your best to make sure that your clients are safe and happy and well taken care of. I have already referred my friends to you, and I am looking forward to my next trip to Cancun with my husband to get dental work and will happily once again book the trip through your firm.

I have traveled twice now to Cancun to have surgery with Dr Carmona. The standards are excellent and I could not have asked for a better result. They are very professional and patient safety and care is at the top of their list. I would highly recommend it to anyone. My Medical Vacations plan everything for you and make this experience worth while.

Hello I had very good experience with the hospital I choose . My Dr Marco Carmona was really good I am very happy with my results . On the day of the surgery , all happen quickly and professional . For me it wasn't very painful, 3 day later I was alredy walking and I was feeling good . All thenks to my dr. Marco Carmona. I couldn't imagine for better results .

I live in Toronto, Canada. I am a frequent visitor of Playa del Carmen Mexico. While I was there February 2013, I was referred to Dr. Carmona through a friend who has had breast augmentation done. I booked a consultation and was quite pleased with Dr. Carmona and staff. His English was very good and was extremely knowledgable. I booked my appointment for surgery one week later. Surgery day was exciting and everyone at the clinic made me feel very comfortable. Recovery was amazing. I'm 3 months post op and feel great. This was the best decision I made, and am so happy with the results. I plan on visiting him for check up and consultation for rhinoplasty this fall. Overall my experience was so easy and comfortable. I highly recommend Dr. Carmona. Thank you, Michelle.

For a long time I wanted to increase the size of my breasts, however out of my nature I am very nervous and anxious about doctors and hospitals. Obviously I was also skeptical about even having the breast implant procedure done. Over the years I checked out various doctors in both Oslo, Norway and Cancun, Mexico, but never felt I found the right doctor for various reasons. I came over Dr.Carmona's web page just searching online. Since I was a foreign in Mexico I asked around in Cancun, Playa del Carmen and with some of my co-workers at the model agency if anyone had heard anything about him. And the rumor was that he was very good, and a known plastic surgeon among the other models. So I made the appointment and I was pleasantly surprised. I was met with kindness and professionalism from both staff and Dr.Carmona. After my first consultation I decided I was going to do my surgery the following week. Making my story short, what I want to share is the confidence he gave me, the way he answered all my questions and doubts I had regarding the surgery, the clinic and post op. I could immediately tell he was a very experienced doctor, and a perfectionist regarding his work, as it shows! I am extremely happy with my results, and I have Dr.Carmona to thank for that! So for anyone who are interested in having any plastic surgery procedure done, I would definitely recommend Dr.Carmona, as he exceeded all of my expectations!

The Doctors are amazing in that they are sincerely genuine! They care about the well being first of their patients with a long term outlook regarding the best recovery possible for the patient and the results achievable. You are not led to believe in expectation of false or unrealistic ideas, instead you are cared for putting your well being first and foremost in a very realistic and safe environment with fully qualified professionals and those who practice to the full in compliment of the Doctors they work for. Dr.Fuentes (OBGYN, Guynocology) is not only the best Doctor and safest doctor in all of Cancun to trust... but maybe most of Mexico! I have never been treated by Doctor as well as I was by this Doctor in Canada. I will never trust another Doctor after experiencing the sincerity's and integrity's of these ones and look forwards to their future care also! I cant say enough or enough thanks to what they deserve!
Staff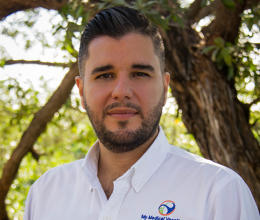 Andres Jurado
Founder/Managing Director
---
Medical Tourism is a fascinating field with great benefits for the international patient. We understand the importance of high quality medical attention and we strive to provide this to our patients every day. Our services ensure a pleasant journey for our patients, who find in My Medical Vacations, a great option for their medical and aesthetic needs, at the same time as they enjoy a beautiful 5 star destination during the recovery. So, I encourage to discover this new and longlasting trend, and I am sure that you will be amazed with what our experienced team has to offer.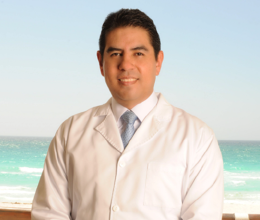 Dr. Arturo Valdez
Lead Plastic Surgeon
---
Recognized member of several prestigious institutions, among which the "American Society for Aesthetic Plastic Surgery" stands out. Due to its exclusivity it has only 2,600 surgeons worldwide, 12 of them Mexican doctors, all dedicated to the advancement of cosmetic surgery.